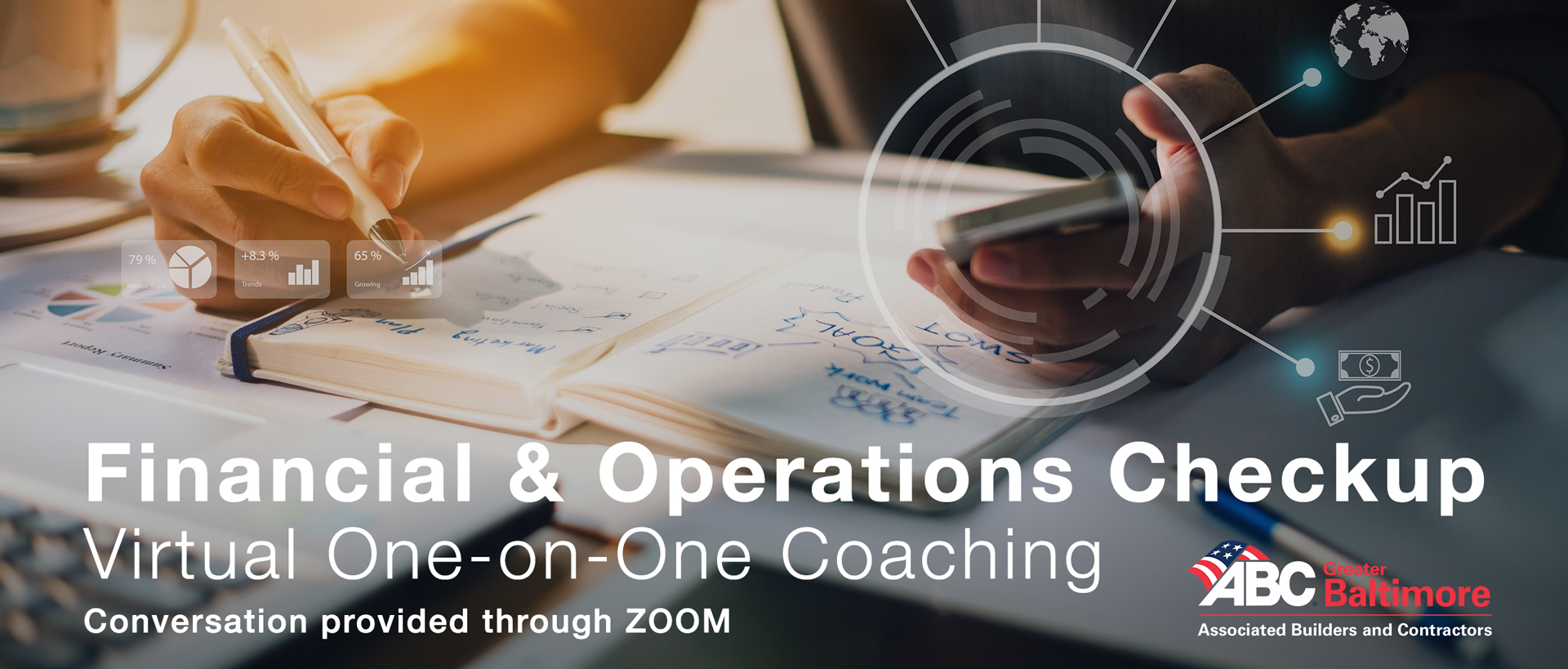 NOW EXTENDED THROUGH MAY 1
ABC Baltimore's Small Business Coach Verna Karolenko has assembled a team of financial, operational, HR and regulatory experts to offer to members a free "check-up" – a safe, non-judgmental place where companies can ask their questions and get their problems solved in the very complex world of running a construction company in Maryland.
This is a free service to ABC Baltimore Members in good standing.
This is a live individual conversation for you and your team members to have one-on-one with a content expert of your choice. Live conversations will be set up via conference call or ZOOM teleconference software – information on the meeting will be sent out following registration. You will be able to schedule meetings with the following experts:
Verna Karolenko, Small Business Consultant, ABC Greater Baltimore (Financial)
Dick Asher, Director of Regulation & Compliance, ABC Greater Baltimore (Regulatory)
Tina Miceli, Director, HR Consulting, Clearview Group, LLC (HR)
Scott A. Livingston, Rifkin Weiner Livingston LLC (Legal)
Gene Cobb, ABC Greater Baltimore Safety Director (OSHA Guidelines and Jobsite Safety)
There is no cost to schedule these calls. ABC is offering these on-line Check-ups in 30-minute blocks. Each member is allowed two-free blocks. Additional blocks are available at a nominal cost to cover our expenses. These services are available on a first-come, first serve basis. This is meant to be a pilot program. If the participation merits, we can add more training blocks down the road.
You may invite as many of your team members to join the chat as you would like. Once you have completed your online registration an ABC representative will reach out to you with instructions for using the ZOOM software or with conference call details. This information can be shared with your team members that would like to be a part of the conversation. We can also host a training session prior to your 30 minute session to test out the ZOOM software upon request.
Topic Ideas for Q&A Session
Key Dates
October 23, 12-1:30
"How to submit an award winning project?" Lunch provided
November 15th
Completed applications are due by close of business
December 5th
Judging Day. *Please be sure to make your owners aware
January 17th
Awards announced
April 16th
Excellence in Construction Awards Ceremony at the Renaissance Harbor Place Hotel
---
Call for Judges
We're always looking for judges. This is a great opportunity to network with your fellow members, while getting an insider's view of recently completed projects in the region. Contact Danielle Hardy (dhardy@secure.abcbaltimore.org) for more information.
For additional information, contact Brittany Chaapel bchaapel@secure.abcbaltimore.org or 410-821-0351 ext 113