See how ABC Greater Baltimore is making this event safe & smart for staff and attendees*
The Venue:
The venue is COMPLETELY outdoors, with the exception of the restroom facilities.
The venue, which has capacity to host events at 2,500+ individuals is limiting attendance to just 500 individuals (though we anticipate closer to 250 for our event), so there is ample space for social distancing.
New plastic picnic tables have been purchased by the venue (easier and more sanitary than typical wooden picnic tables) and are limited to 6 individuals per table
All picnic tables will be placed 6 feet or further apart
Food service lines will be spread apart from beverage service lines and there will be signage marking 6 feet distances for those waiting in a line
All food/beverage service staff (ABC employees and Conrad employees) will be required to wear a mask
Event Precautions:
Masks are not mandatory for the entirety of the event, but we do ask that they are worn when using the restroom facilities and when in line for food or beverage
If you wish to wear a mask for the entirety of the event – please do so!
Masks will be provided for those that do not have one
An online waiver/questionnaire must be completed by all attendees prior to entry, asking questions about health and travel
Each individuals temperature will be checked at the door by a licensed nurse – anyone registering 100.4 or higher will not be admitted
Hand sanitizer spray bottles will be scattered around the venue for use by staff and attendees
For parties of 6 or more there will be tables designated to your groups
For groups of less than 6 we kindly ask that you choose a seat and keep that seat for the entirety of the event (obviously you are welcome to roam the facility, but please use the same seat for consumption of food and beverage)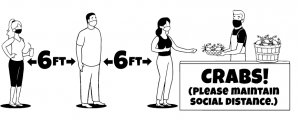 *While we recognize there are risks to hosting any event, we kindly ask you to read and agree to the following disclaimer regarding ABC's Bands by the Bay:
ABC Greater Baltimore is taking enhanced health and safety measures to make Bands by the Bay as safe as possible for our attendees and staff.  An inherent risk of exposure to COVID-19 exists in any public place where people are present and we cannot guarantee that you will not be exposed. The Center for Disease Control (CDC) advises that older adults and people of any age who have serious underlying medical conditions might be at higher risk for severe illness from COVID-19.  Attendees should evaluate their risk in determining whether to attend. By attending this event you are voluntarily assuming all risks related to exposure to COVID-19. We appreciate your cooperation during this unprecedented time.  Visit the CDC website for the latest guidelines.