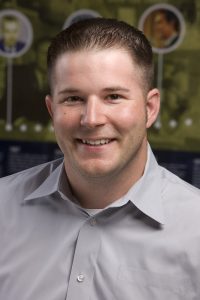 Company: Southway Builders, Inc.
Job Description: Division Manager overseeing teams managing a variety of multi-family residential and commercial projects.
How did you get involved with ABC?: I first got involved in ABC with the West Virginia chapter. I later became involved in Baltimore with the events committee and General Contractor's Council.
What's your passion as a board member?: Simply stated¬Â¦our members. My passion lies with playing my part in helping our members be successful in their businesses all the while advocating for, and advancing, the merit shop philosophy.
What are your goals for the future of ABC?: I'd like to see ABC become the preeminent innovative leader in workforce development; an organization whose brand is recognized as THE best-in-class in terms of education and training both within the skilled trades as well as professional development within the contracting industry.
What are your hobbies/interests?: As of late my interests are spending time with my family, in particular my 4-year old daughter and 16-mo son! I'm also a certified wreck diver and licensed pilot and though it's limited these days, always enjoy the opportunity go diving or flying. And of course, I wouldn't be in the industry if I didn't love building, so on the weekends you can often catch me fiddling with one project or another.